US Holiday Concert Recap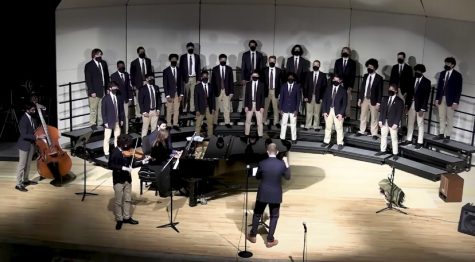 On December 2nd, University School hosted its first holiday concert since the winter of 2019. Led by US Director of Music Mr. Daniel Singer, The University Singers, US Males, Glee Club, and the US Chamber Orchestra all performed a variety of pieces after months of preparations. Here's a recap of everything that went down.
Preparations for the concert came with their challenges. Due to the ongoing COVID-19 pandemic, several restrictions were put into place to ensure everybody's safety. All the vocal ensembles were required to stand three feet apart during rehearsals and wear special masks designed specifically for singing. The orchestra had things a little more complicated. The strings section sat three feet apart and wore masks. The woodwinds and brass sections, however, were required to sit six feet apart due to the aerosols that could have been dispelled by those musicians blowing into their instruments. These sections also placed fabric bell covers on their instruments to prevent the spread of aerosols, and they wore masks designed to let them play their instruments while keeping their face covered.
Sophomore tuba player Dominic Harrison points to the social distancing as the biggest challenge he experienced during rehearsals. "Believe it or not," he says, "[social distancing] makes a huge difference in the production sound and the quality of the concert in the end." Mr. Singer agreed that spacing and masking presented new challenges, but also stated that the fact that there had not been a concert in two years was a challenge in itself. "For most of the people on stage," he explains, "this was their first concert at the Upper School, and some of our youngest students hadn't performed in a concert since they were in seventh grade. Add to that the challenges we had in rehearsing last year, and it makes it even more amazing that we were able to put this program together and have our concert feel as normal as it did."
The concert began with all of the vocalists performing Tuba (Look at the dove on that tree), featuring solos from sophomore Manzili Denis and junior Easton Sumlin. The University Singers, the freshman choral ensemble, then performed This Little Light of Mine, There Always Something Sings, and Speak the Truth.Then, the US Males, the school's a cappella group, performed an arrangement of John Lennon's Imagine,featuring solos from seniors Max Outcalt, Jason Williams, and Chris Bridge, and junior Easton Sumlin. The Glee Club then came on stage and performed Dravidian Dithyramb, Sing Gently, The Boar's Head Carol, Shalom, and Brightest and Best, featuring instrumental accompaniment from juniors Jacob Andreini, Ehren Collins, and Sachin Singh. All the vocalists then closed out the first half with Kyler Pederson's Hands are Knockin', featuring solos from senior Owen Bauer and junior Alex Temnorod.
The Chamber Orchestra kicked off the second half of the concert with Beethoven's Egmont Overture, followed by Pyotr Tchaikovsky's Themes from March Slav. The strings section then played George Handel's pastoral symphony Pifa before the entire orchestra reconvened to play A Vaughan Williams Christmas. The Chamber Orchestra closed out its half of the concert with Johannes Brahms's Symphony No. 1, Movement 4. The concert closed out with all musicians performing an arrangement of Hail University.
Needless to say, everyone involved was thrilled to have the opportunity to perform after such a prolonged hiatus. "It was nice to show our progress," says Dominic Harrison. "That was my first year with the US Orchestra and it was honestly beautiful to watch everyone perform." Mr. Singer echoed similar sentiments, explaining how thrilled he was to conduct in person again after nearly two years of prerecorded concerts without an audience. "The late Stephen Sondheim once said that 'the last collaborator is your audience', meaning that what we've really been missing is the chance to be on stage making music and receiving the audience's immediate feedback. It's an honor to facilitate that connection between performers and audiences, and I'm happy to be back at it once again!"