Overview:
         Heading into the third week of the NFL season, we have seen a good amount of breakout stars on the fantasy football scene. Puka Nacua and Kyren Williams from the Los Angeles Rams headline this group, and both are ranked No. 2 in their respective positions (wide receiver and running back). Some other over achievers in fantasy football include Brian Robison Jr. (Washington Commanders) and Jordan Love (Green Bay Packers). These players, who were under the radar in the pre-season (in regard to fantasy football), have defied the predictions of expert analysts who spend their days looking into every scenario of each player. But the main question for each of these breakout players is as follows: How long can they keep these numbers up?
Puka Nacua:
         The first, and most surprising player, Puka Nacua, has been able to create a nice role for himself in the absence of star receiver Cooper Kupp who has missed the first two weeks with a hamstring injury, which dates back to training camp. Nacua has been able to rack up the points not through touchdowns, but through a large number of receptions. The wide receiver recorded 10 receptions in Week 1 against the Seattle Seahawks (win) and 15 receptions in the match up against the San Francisco 49ers (loss). In the fantasy football world, this translated into 21.9 and 30.1 points, respectively. Even with two great weeks, his ability to keep these numbers through the entirety of the season is in question. Currently, the Los Angeles Rams' head coach Sean McVay is hopeful for Kupp to return to action as early as week 5. Due to the fact that Nacua relies on receptions for points, his numbers will most likely be slashed with the return of the prolific receiver. Until then, managers who were lucky enough to pick up Nacua from waivers can expect great performances from the rookie.
Kyren Williams: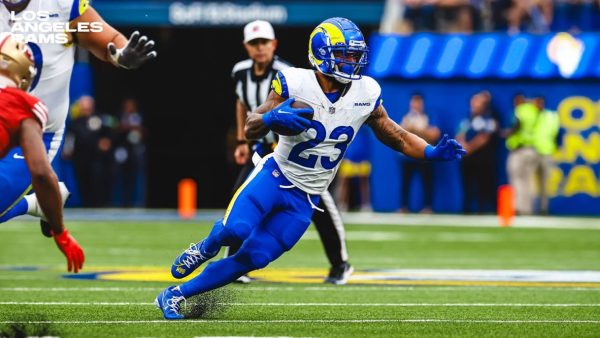 Nacua's teammate, Kyren Williams, has also had a monster first two weeks making noise in the backfield for the Los Angeles Rams. Williams, who was expected to back up Cam Akers, has started off the year strong and has done so well that Akers was a healthy scratch during last week's matchup against the 49ers. Further, it is likely that Akers will be traded in the following weeks based on rumors around the team as well as cryptic messages on social media from Akers.* With this considered, it looks like Williams will prove to be a great addition to your fantasy football team if you were able to pick him up, or even drafted him in a late round. Williams is a threat on multiple levels which was showcased in Week 2 as he recorded a receiving touchdown as well as recording two rushing touchdowns in week 1. Week 2 also saw Williams targeted 10 times for 6 receptions, which is great news especially for managers in PPR leagues. More specifically, Williams has 29 rushing attempts and 6 catches (12 targets) with 3 touchdowns over the course of two weeks. These statistics have totaled to 17.4 fantasy points in week 1 and 28 points in week two. With the backfield seemingly belonging to Williams, his productivity should last; the only concern is whether the 2nd year back continues to play at a high level the entire season.
*Update*
Cam Akers has been traded to the Minnesota Vikings making Kyren Williams the lead back for the Rams, solidifying WIlliams spot as having the potential of a top tier fantasy running back.
 Brian Robinson Jr: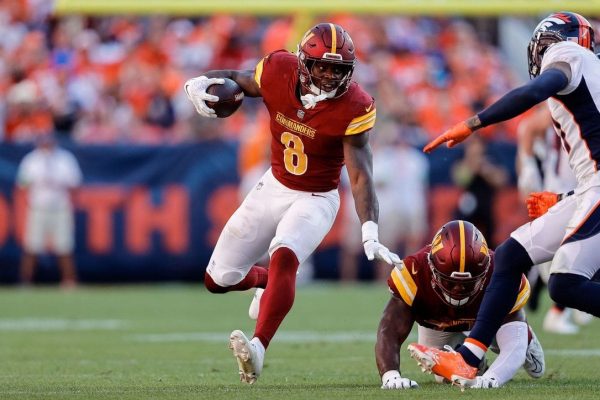 Coming into the season, Brian Robinson Jr. wasn't put very high on many experts' big boards because the Commanders planned (and do) have to back splitting carries with Antonio Gibson who is another solid back. However, even with this, he has proven to be a top back in fantasy football who can produce as a solid RB2 or flex option. Robinson Jr. has recorded 3 total touchdowns on the season with one receiving TD in week one against the Arizona Cardinals and two rushing touchdowns in week 2 in a matchup against the Denver Broncos. In addition to this, the committee backfield has not depleted the backs' attempts over the first two weeks, as he has recorded 19 and 18 attempts, respectively. Though he isn't targeted in the receiving game, the fantasy numbers he has produced are great; Week 1 Robinson Jr. recorded 13.6 points and in Week 2 he recorded 28.9 points. Though he currently sits at number three in the running back position rank, I do not think he can keep this level of success as he does share the backfield with Gibson, who is another good running back. So far, Robinson Jr. has won the battle of the backfield in D.C., however he must continue this success to truly maintain the larger role. If he is able to do this, I believe that Robinson Jr. has high end RB2 potential on fantasy rosters.
 Jordan Love: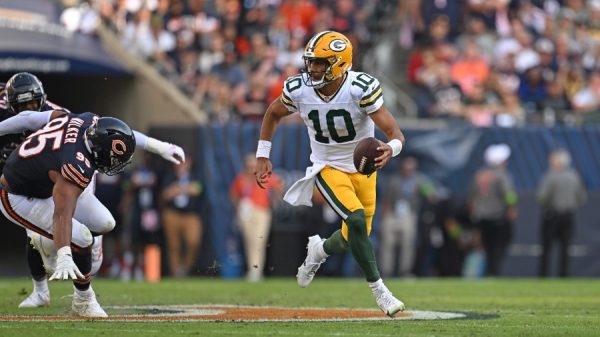 The only quarterback on this list, Jordan Love, came into the season with varying expectations from fans and people across the league. In the eyes of Packers fans, Love is supposed to be their next generational quarterback after studying under Rodgers for the last few seasons. Others concluded that he will pan out to be a serviceable quarterback for the team but would not be able to fill the shoes of Rodgers. Over the first two weeks, Love has matched up against the Chicago Bears and Atlanta Falcons, leading the team to a 1-1 record. In week 1, Love looked amazing and recorded 23 fantasy points; he threw for 245 yards and 3 touchdowns. In the week 2 nailbiter loss, Love played solid once more, but the team fell to a late 4th quarter comeback by the Falcons. In the game, Love threw for 151 yards and 3 touchdowns on his way to 20.34 fantasy points. The dip in yardage is definitely a concern, however the quarterback shows promise with consistent and smart plays, along with a young wide receiver group who he seems to be on the same page with. Even though Love has been in the league for a few years, it almost seems to be too soon to see where his career will take him. As for fantasy football, Love looks like a solid option at the QB position if you missed on the top tier quarterbacks in the draft. With that being said, it is still smart to keep another quarterback on the bench of your fantasy roster as the Green Bay Packers and Jordan Love attempt to prove themselves and show what they truly can be this season.