Robotic Umpires: Baseball's Future or Doom?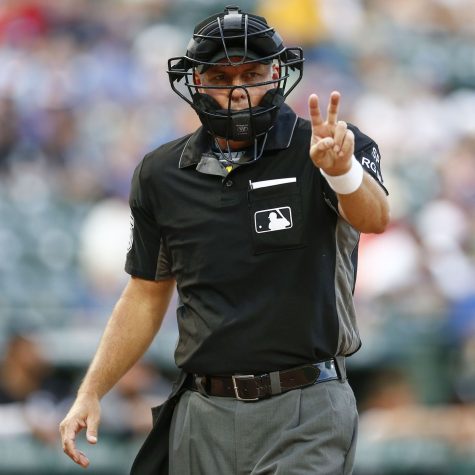 After shortened 60-game seasons, ballpark restrictions, and a 99-day lockout, baseball finally returned in all its glory with a booming Opening Day of two weather-induced postponements, the expected big names on the Injured List (see: deGrom, Jacob), and the usual slate of pace of play issues on April 7. Among the new rule changes decided on for the 2022 season are an increased roster size of 28 active players featuring an unlimited amount of pitchers through May 1 (to combat the shortened Spring Training), extra-inning ghost runners on second, a return to nine-inning doubleheaders, a postseason expansion to 12 teams, and universal designated hitters throughout the National and American Leagues capped off by 'The Shohei Ohtani Rule,' which details that any pitcher hitting in a team's lineup can stay in the game as a DH even after he is pulled from the mound. But indeed the greatest accomplishment of MLB's latest Collective Bargaining Agreement (CBA) deal was its ability to whittle down just what exactly the players and owners will be bickering about the next time around. Here are some of the tabled rule changes we could see implemented for 2023 or beyond: pitch clocks, banned infield shifts, larger bases, and an automated ball/strike zone.
Among those potential rule changes, an automated ball/strike zone appears to be the most likely to be awarded MLB commissioner Rob Manfred's stamp of approval. Currently being tested in Triple-A play and previously having undergone trials in Manfred's Atlantic League-sized petri dish, the question of umpire or no umpire seems to be reaching a turning point. And with pressure mounting to improve pitch calling accuracy in the Majors, Manfred is leaning towards stringing his umpires up like marionettes and displaying his puppet show behind home plate.
The idea of using robotic umpires in professional baseball is not a new phenomenon. In fact, the first attempts at an automated strike zone date back to the Great Depression with a wired contraption better suited for the next Back to the Future movie (Marty McFly gets stuck in the… present. Anyone? Anyone?). Another such idea, conceived slightly earlier by a man supposedly named Guy T. Lansford, per Old Time Family Baseball, featured photo electric cells to conjure up a wall of transparent light. When the ball would pass through this wall, a gong would sound to signal a strike. In 1938, John Oram of Texas attempted the same thing, but with his wall of light being generated from first base. Following World War II, the Brooklyn Dodgers enlisted the help of the General Electric Company to design a robotic umpire that would stand 25 feet away from home plate and shout out balls and strikes. Without much fanfare, though, the two by four foot wooden box never made it past its testing period in the Spring Training of 1950. By 1955, developers had built a robot that resembled a human in the sense that it was set upon a pair of legs and had a dome-shaped head similar in appearance to our own. However, Garco (for that was his name) was merely destined to reside in Hollywood and perform mock arguments with Bobby Bragan.
The first glance at the technology that would later lead to recent systems seen in MLB trials came from a theory produced in 1961 by Charles James, then a student at the Washington University of St. Louis, who would go on to post a career on base percentage of .283 in his brief MLB experience with the Cardinals. While scientifically plausible, it didn't come without its faults, as it required a treasure trove of computers. Given the size of technology in the '60s, running the system in Major League ballparks would be remarkably inefficient for team owners. Plus, the technology struggled to chart the path of knuckleballs. After that, aside from eleven-year-old Tom Perryman's sound-wave oriented ump (complete with a duster for home plate) in 1974, the development of robotic umpires largely stalled through the end of the 20th century and didn't pick back up again until the MLB took their chances with a Questec system in '01 that was eventually discontinued in 2008. This opened the door for new systems such as PITCHfx and FIELDfx. And, now, ABS (Automated Ball Strike).
A polished black box reminiscent of a TV screen, ABS finds itself positioned behind and above home plate and uses TrackMan technology originally founded in golf. A radar dish in reality, the system analyzes every pitch thrown by tracking its path and comparing its position as it crosses the plate to a three-dimensional strike zone that can be calibrated based on batter size and stance to fit any size of hitter. The dish then communicates the result (ball or strike) to the umpire through a wired earpiece, who announces the decision; a surprisingly simple process for a remarkably complex concept. 
There has been some hesitation amongst players and coaches, however, as to whether ABS is a good idea. Former Rockies catcher Chris Ianetta, per GeekWire, shared the sentiment that if too much was taken from the game then it wasn't really the game anymore, while Seattle third base coach Manny Acta pleaded for the human element of baseball not to be removed from the sport. Broadcaster Aaron Goldsmith agreed, citing the charm of heckling the umpire on a summer afternoon.
But many may be questioning their original, purist viewpoints. During a late April matchup between the Philadelphia Phillies and Milwaukee Brewers, Phils left fielder Kyle Schwarber struck out looking on a full-count pitch in the bottom of the ninth that was proven to be well outside the strike zone not only by human eyes but also by electronic data that tracks pitch arcs, costing the Phillies another disappointing one-run loss. In fact, in a game in which a total of 26 strikeouts were recorded (including a career-high 13 from Crew lefty Eric Lauer), all six called strike threes were identified as being off the plate by Statcast data. In total, home plate umpire Angel Hernandez called 16 strikes on Philadelphia and Milwaukee hitters that were outside the strike zone. Striking out looking on a similarly bad call earlier in the game during the sixth inning, Schwarber wasn't so subtle in expressing his frustrations with Hernandez the second time around. Relieving himself of his helmet and bat, Schwarber blew up at the embattled, often-controversial umpire. Following his ejection, he spoke to reporters in a calmer manner. "That's why I went… I mean, everyone kind of saw what was going on. I'm not here to bury anyone, but it wasn't very good. I don't know how to really say it. It just wasn't very good. Guys were doing a really good job tonight of not saying much. It just got to me to where I was going to stick up for some other guys," Schwarber told NBC Sports. "I'm all for umpires. I'm not against them. I'm pro-umpire," he said. "I don't want the electronic strike zone. I like the element of sometimes pitches don't get called. Guys don't receive it well or whatever it is. It's an enjoyable part of the game. But when you have things that are getting called off the plate with really good pitching on their side, it can be harder to score. You saw on both sides that it was a harder game to score." Still, when asked whether or not he felt that it was Hernandez's missed calls that cost the Phillies the win, he hesitated. "I don't know," he said. "It could have. It could have." Schwarber's manager, Joe Girardi, on the other hand, was all for ABS. "Well I wouldn't mind it. I wouldn't," he said. "It's not an easy job. It isn't. That's why I'm kind of for the automated strike zone. It takes some of it off them (the umpires)."
If you were to ask me, the humble writer of this article, I would tell you that such a system would only cut a shadow of doom across the landscape of professional baseball. Taking away the autonomy of the umpire would serve as a gut punch to fans on the same level as Tom Brady's pseudo-retirement or an actual concrete punishment to the Houston Astros (thank god Manfred won't go so far as to reprimand cheating). Every fan's dream is to have something, anything, to complain about. And what better than, as Goldsmith said, an umpire's call of ball or strike. Harassing the men in blue is front and center of the quintessential American ballpark experience. And insulting robotic umpires after their implementation would be a fruitless endeavor, seeing as there's no feelings to be hurt. "The concern about our fans is at the very top of our consideration list," the commissioner told The New York Post during the lockout. Mr. Manfred, if these rule changes of yours are meant to reinvest the American people in your product, try not to estrange them by stripping away their punching bag. Petty? Yes. But necessary too.