2022 NFL Draft: Winners and Losers
Winners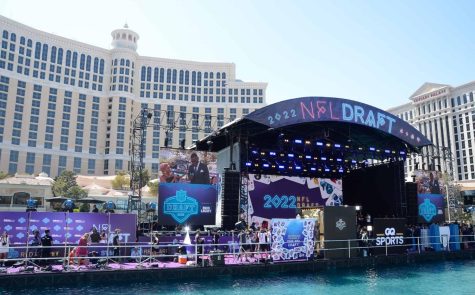 Philadelphia Eagles 
After the 2022 NFL draft, the Philadelphia Eagles walked away with a handful of great players. Trading up at 11, Philadelphia selected defensive lineman Jordan Davis, a 22-year-old from Georgia. Philadelphia got a freak athlete in Davis, standing at 6'6, 340 pounds, and running a 4.78 40 time, a ridiculous speed for someone that size. With Fletcher Cox getting up there in age, Davis will be a great replacement, giving the Eagles someone on the interior who will be able to stop the run. Philadelphia swapped their other 1st round pick and a 3rd, to the Tennessee Titans in exchange for A.J. Brown, after he and his former franchise were unable to agree on a contract extension. Brown and 2nd-year receiver Devonta Smith will give Jalen Hurts all the resources he needs on offense to allow Philadelphia to become contenders. In the 3rd round, Philadelphia picked up arguably the best linebacker in this year's draft, Nakobe Dean, a fast and physical linebacker who played a huge part in Georgia's elite run defense last year. Philadelphia also selected Nebraska center Cam Jurgens, the likely replacement for 34-year-old center Jason Kelce. 
Losers
Chicago Bears (especially Justin Fields)
Picking without a 1st round pick made it even harder for Chicago to fill their needs and surround Justin Fields with weapons. Losing Allen Robinson in free agency is a huge knock on the Chicago offense. His replacement, a projected 5th-round receiver, Velus Jones, was selected in the 3rd round. Jones does have large amounts of upside, running a 4.31 40-yard dash, however, there are a lot of concerns surrounding the route running ability of Jones. It also doesn't help that Jones had a 6-year college career, making him 25 years old on draft day, almost 3 years older than the average draftee. With only Velus Jones as the new young addition, the Bears have an extremely lackluster receiver group. As well as not giving Fields many elite weapons, it took Chicago five rounds to select an offensive lineman. Last season, Fields was under constant pressure and sacked 36 times in 12 games. Even with the solid additions to the secondary, the lack of offensive help Fields will be getting is not setting up Chicago for great success.
Winners
Baltimore Ravens
The Ravens made multiple great additions on the defensive side of the ball in this year's draft. Taking Notre Dame safety Kyle Hamilton at pick 14 was considered a steal to many, after he demonstrated he is an elite level safety in his time at Notre Dame. Hamilton fell from being once a projected top 3 pick in this year's draft after running a 4.71 40-yard dash, but his on-field speed, reaction time, and size are still one of a kind. Baltimore traded Marquise Brown for the 23rd overall pick, where they selected one of the best interior linemen in this year's draft, Tyler Linderbaum. The defensive line received even more additions on day 2 with David Ojabo, an athletic end, once mocked in the top 15 who ended up falling due to an Achilles tear during his pro day. Even with Ojabo most likely missing his entire rookie year due to this injury, he certainly will be an impact player on the Ravens defensive line when he is back healthy. Travis Jones, a defensive tackle from Uconn was taken with the 76th pick, giving even more help to the Ravens' defensive line. Standing at 6'4, 325, Jones showed in his 4 years at Uconn that he is a fantastic run stopper and has a chance to add to one of the best run defenses in the league. Baltimore had a great day 3, adding Charlie Kolar, one of the most underrated tight ends in this year's draft. The Ravens also added depth to their offensive line and their cornerback room.
Losers
This year's quarterback class
With only Kenny Pickett going on day 1, multiple quarterbacks took a huge salary hit falling into day 2, some even falling today 3. To some, this was a surprise, but to many, this was the expected, with this year's quarterback class being considered one of the weakest ever. Even with this in mind, Malik Willis falling out of the top 80 wasn't expected. Some more notable falls were Coral being taken at 94 and Sam Howell falling all the way to the 5th round. Even with quarterbacks having a down year in the draft, the 2023 quarterback class is looking promising, with C.J. Stroud and Bryce Young playing like possible number 1 picks.
Winners
New York Jets 
After day 1, it was obvious New York was on pace for a great draft. With 3 first-round picks, New York was able to add huge playmakers on both sides of the ball. Taking Cincinnati quarterback Sauce Gardner at 4, the Jets got their cornerback of the future. They added weapons for Zach Wilson by taking Garrett Wilson, arguably the best receiver in this year's draft, with the 10th pick. The Jets also had one of the most underrated mid-round picks, taking Jeremy Ruckert, a tight end from Ohio State who was a huge part of Ryan Day's offense the past two seasons. The Jets also improved their pass rush, taking Jermaine Johnson in the late first round. The Jets took arguably the best running back in this year's class, Iowa State product Breece Hall, in the 2nd round, adding another young running back to help the Jets offense. Unlike seasons in the past, the Jets will have a lot to look forward to with all the incoming rookie talent.