Varsity Baseball Midseason Update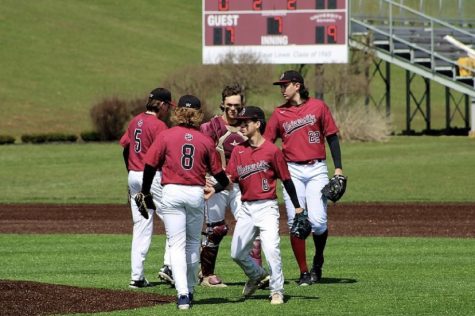 Last year, US Varsity Baseball was defeated in the district semi-final in what was a strong season for the Preppers. US Baseball went 17-12, and the season was capped off by a 2-1 victory over Bay in the postseason. This year, there are a number of returning varsity players, along with some new talent and first year varsity members. The team is led by captains Ryan Tyler and Jae Smith.
The big question this past offseason was who would replace the 125 innings of pitching lost from last year's team. This offseason, players such as Ryan Tyler, Ben Elliott, Samonte Martin, and a number of others put in long hours of practice to get ready to play a larger role in the pitching rotation this season. The pitching staff will be led by D-1, Kent State commit Evan Shapiro. In Evan's first start of the season against Bay, he threw a complete game, 2 hit shutout while also recording 13 strikeouts. Shapiro received a pre-season second-team All-Ohio nod from the Ohio Prep Baseball Report. The pitching staff is also headlined by freshman Aaron Moss. On opening day, Moss threw for 4 innings allowing just one earned run on 3 hits. Other main pitchers include Matthew McMahon, Ben Elliott, Riley Penn, Ryan Pattison, Jae Smith, Samonte Martin and Tyler Ryan.
Hitting wise, the team is led by Juniors Ryan Pattison and Ben Elliott, along with Senior captain Ryan Tyler. Elliot batted a strong .324 last year along with 14 RBI's and 22 runs and Tyler batted .323 with 12 RBI's. Pattison batted .322 last year with 23 RBI's along with 21 runs and has absolutely raked to start off this year. In an early game against John Marshall this year, Pattison hit 2 triples and had a home run going 3 for 3 with 6 RBI's. The Varsity team also looks to rely on Freshman Aaron Moss and Junior David Faremouth for some consistent hitting as Moss has consistently batted second and Faremouth at cleanup. Sophomore Joey Zigman and Junior Mathew McMahon have also done good work batting early on in the season. Fielding wise, the team is led by the strong infield gloves of Moss and Elliot as well as the wall behind the plate that is David Faremouth. The outfield is held down by Pattison in center as well as Jae Smith and McMahon alongside him. One of the main things that the team has focused on this pre-season is to limit the amount of errors committed. As Fordham commit manager Matt Levanduski says, "errors are the difference maker in games." 
In all, this season should be a good one for Varsity baseball as they are led by a strong coaching staff and have a lot of young and veteran talent.