How the Browns Can Vault Back into Super Bowl Contention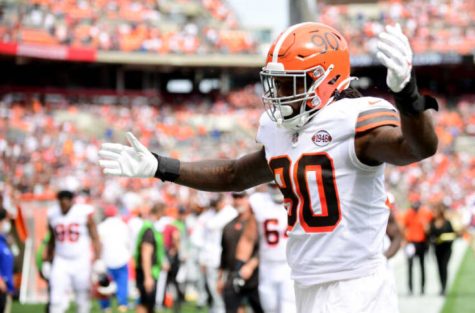 The Cleveland Browns had a disappointing 2021 campaign, to say the very least. What many fans expected to end in a deep playoff push culminated in yet another losing season and looming questions regarding the roster and the coaching staff. A lot went wrong for the Browns this season, but there are several reasons for optimism. The Browns still have one of the most talented rosters in the National Football League, and the team is young. They also have $25 million in cap space to spend in free agency and the 13th overall pick in an NFL Draft loaded with skill players like wide receivers and cornerbacks. The Browns have a lot of options when it comes to players they can sign and draft. However, a blockbuster trade or an overly-expensive free agent signing are not necessary. Here are some of the best moves the Browns can make to catapult them back into the playoffs next season and beyond.
Extend CB Denzel Ward
Denzel Ward, the Browns' top cornerback, is entering the fifth and final year of his rookie deal, and it is imperative that the Browns sign him to a contract extension this summer to ensure he remains in Cleveland for the foreseeable future. Ward, the fourth overall pick in the 2018 NFL Draft, has been the best player on the Browns defense besides All-Pro defensive end Myles Garrett since he suited up for his rookie year. He has had a bit of trouble with injuries throughout his career, but he did play in fifteen games this year, and his impact on the field far outshines any doubt about his availability. Ward is a shutdown corner when he's on the field, only allowing 435 total yards last season, and many NFL experts include him in their top 10 cornerback lists. Ward is the anchor of the Browns' secondary, and his impact would be missed immediately should he sign elsewhere next year. Thus, extending his contract should be one of Cleveland's top priorities this summer.
Re-Sign DE Jadeveon Clowney
Jadeveon Clowney was signed to a one-year prove-it deal after struggling for the past couple of years with the Seattle Seahawks and Tennessee Titans. Clowney made the best of his opportunity, turning out to be an effective complement to Myles Garrett on the defensive line. He accounted for nine sacks and nineteen quarterback hits in fourteen games, and he played a crucial role in stopping the run game, which has been his specialty throughout his career. The only possible downside to re-signing Clowney is that he will command a hefty salary, potentially larger than what the Browns would be willing to pay. If he does end up asking for more than he's worth, the Browns would need to find a replacement for him, as they have too many other pressing needs to address in free agency. But if Cleveland can bring him back for the right price, they should do it.
Cut/Trade TE Austin Hooper
With the Browns placing the franchise tag on last year's backup tight end David Njoku, it should only be a matter of time before Austin Hooper was relieved of his duties as a Brown. Hooper signed a four-year, $42 million contract with the Browns in 2020 after a stellar season with the Atlanta Falcons. The Browns hoped that Hooper would help with pass-blocking and provide developing quarterback Baker Mayfield with a reliable target to throw the ball to. Hooper has been a good pass blocking tight end since his arrival in Cleveland, but the organization is yet to see the receiving threat that terrorized opposing defenses in Atlanta. In 2019 alone, when he was still on the Falcons, Hooper accumulated 787 receiving yards. In the 2020 and 2021 seasons combined, both with the Browns, Hooper only mustered 780 yards. The only downside to cutting or trading Hooper is that he will cost the Browns some dead cap space. In other words, they will still have to pay him the remainder of his guaranteed salary, which will count against the 2022 and 2023 salary caps. Nonetheless, they should still be able to save a few million dollars by getting rid of Hooper, which they can allot towards another signing.
Sign WR Amari Cooper
Recent reports have suggested that the Dallas Cowboys plan to release star receiver Amari Cooper after three and a half seasons. In a free agent market filled with good receivers, Cooper stands out as the most lucrative option. He has reached 1000 receiving yards in five of his seven seasons in the league and catches most balls thrown his way. An impeccable route-runner, Cooper can become the most reliable target Baker Mayfield has ever had in his career. Mayfield has struggled building up chemistry with his receivers throughout his career, but signing Cooper could change that. He may come at a steep cost, as other teams will most definitely attempt to recruit him as well, but his consistency, work ethic, and raw talent would be worth the expensive price. Cooper could be the foundation of Cleveland's passing game that the Browns' front office has been searching for ever since they drafted Mayfield.
Draft a Wide Receiver
This upcoming NFL Draft features one of the most talented wide receiver classes in recent history. With prospects such as USC phenom Drake London, Ohio State's dynamic duo of Garrett Wilson and Chris Olave, and Alabama standout Jameson Williams all declaring for the draft, the Browns have lots of options to address what has become one of the weakest positions on the roster following the fallout with Odell Beckham Jr. and the possible departure of Rashard Higgins. Drake London, the consensus best receiver in the draft, will likely be taken before the Browns would have a chance to draft him with the 13th overall pick. However, many experts believe Garrett Wilson could be a perfect fit in Cleveland.  Wilson is considered by many to be the second-best wide receiver in the draft, touted for his elite route-running and his ability to be a threat on deep passes. The Browns have struggled at the receiver position for the past few years, but someone like Wilson could be the man the Browns and Baker Mayfield need to get the passing game going and turn the offense into a scoring powerhouse.
Consider Signing QB Jameis Winston
            Former #1 draft pick Jameis Winston is set to become a free agent this season after his second season with the New Orleans Saints. Winston is the best quarterback to hit free agency perhaps since Kirk Cousins did in 2018, and he has quite the turnaround story. After being drafted by the Tampa Bay Buccaneers in 2015 and making a Pro Bowl as a rookie, Winston struggled, specifically with interceptions. After a 2019 campaign in which he threw thirty interceptions, the Buccaneers did not re-sign him. He then signed a deal with the New Orleans Saints and backed up future Hall of Famer Drew Brees for one season before taking over last year. His 2021 campaign was cut short due to an ACL tear midway through the year, but his numbers showed signs of drastic improvement. He threw 14 touchdowns, including 5 on a formidable Packers defense, while only giving away three interceptions. His passer rating was 102.8, and he led the Saints to a 5-2 record to start off the year. So far, the Saints have not shown any signs of re-signing him before he becomes a free agent, so there is sure to be a big market for him. The Browns should at the very least consider signing Winston. Baker Mayfield has been very inconsistent throughout his career, and bringing in Winston could do one of two things. The signing could either light a fire under Mayfield's belly and motivate him to play his very best, or it could provide the Browns with a high-upside quarterback who can lead them deep into the postseason.