The Brian Flores Lawsuit and Issues with Racism in the NFL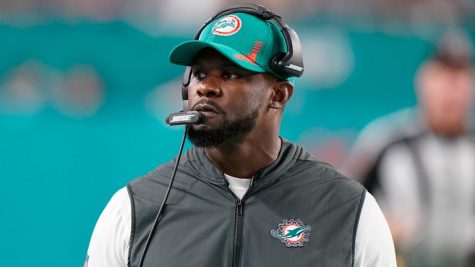 Amid a fantastic and entertaining postseason, the situation surrounding former Miami Dolphins head coach Brian Flores and the rest of the NFL has been a dumpster fire that is only getting bigger. After numerous lawsuits and public statements from Flores, the NFL is in deep waters. Flores recently sued three teams–the Denver Broncos, New York Giants, and Miami Dolphins–for patterns of racist hiring practices, racial discrimination, and being encouraged to tank by his front office in Miami. Flores was recently fired by his former team, the Miami Dolphins, after a 9-8 season in which many considered to be a success for the Dolphins considering the lack of a good offensive line and the 1-5 start to the season. In his three years with Miami, he finished with a 24-25 record, which many found impressive with the lack of talent on the roster, as the Dolphins were the youngest team in the league in the first two years of his stint there. Flores's firing took place on January 10th, the day after the game of the year. The news was shocking to many but ended up losing attention once the playoffs started. Three weeks later on February 1st, the news broke that Brian Flores was suing three of his former teams. Any possibility of these claims being false was shot down when Flores used text message screenshots to support his evidence. Flores had numerous claims and had evidence for every single one of them. The first thing Flores claimed was him being encouraged to intentionally lose games, a process known as tanking, by Dolphins ownership. According to Flores, he was offered $100k for every loss by Dolphins owner Stephan Ross. The lawsuit also states Flores was referred to as "an angry black man" and was told his firing was due to him being "noncompliant and difficult to work with". 
The final and most recent part of the lawsuit came when Flores was scheduled to interview for the head coaching job with the New York Giants. Flores was scheduled for an interview with New York a couple of days after former Bills offensive coordinator Brian Daboll was interviewed. Flores received a text from Bill Belichick, congratulating him on getting the head coaching job in New York. Flores had yet to be interviewed before receiving this text. It was later revealed Belichick had accidentally texted the wrong Brian when he meant to text his former assistant Brian Daboll, who had been announced to have received the job among a small group of people, one of them who was Belichick. 
What is so upsetting about this incident in particular? As Flores said, in an interview on CBS, the interview with the Giants was a "sham". But why was Flores interviewed? Two words- Rooney Rule. In 2003, the Rooney rule was implemented by the NFL. The rule states that each team is required to interview at least one minority candidate for every job position. The issue with this rule is that teams schedule interviews for these minorities, just to not even consider them for the position, and just end up giving false hope and wasting the time on these candidates. In Flores's case, he was not even being considered for the position, he was only being interviewed because of the Rooney Rule. 
After this incident, it brought up the discussion of the issue of a lack of diversity in NFL coaching staffs and front offices. In a league in which 57% of players are African American, the NFL has no African American owners, and after the firing of Flores, only 2 African American Coaches. In the Flores lawsuit, it states, that "the NFL is and ​​remains rife with racism, particularly when it comes to the hiring and retention of Black Head Coaches, Coordinators, and General Managers."
Goodell addressed the public on the subject of the lack of diversity in the NFL stating, "Racism and any form of discrimination are contrary to the NFL's values. We have made significant efforts to promote diversity and adopted numerous policies and programs which have produced positive change in many areas, however, we must acknowledge that particularly with respect to head coaches the results have been unacceptable. We will reevaluate and examine all policies, guidelines, and initiatives relating to diversity, equity, and inclusion, including as they relate to gender." With these statements in mind, the chance of the Rooney rule being tweaked or removed and replaced is very possible. No matter what, it's almost certain that someone is going to have to make some sort of change to prevent incidents like this and promote diversity in coaching staff and front offices.
On February 19th, 42 days after his firing by the Dolphins, Flores was hired by the Pittsburgh Steelers as a defensive assistant and linebackers coach.