Looking Ahead Towards the Cleveland Guardians' 2021 Offseason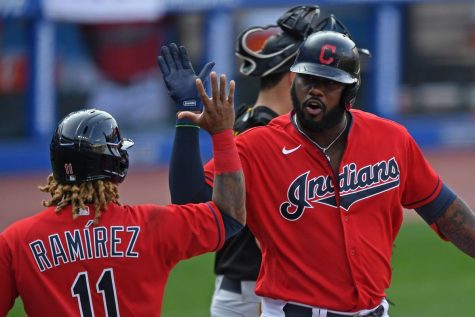 As the 2021 baseball season winds down, the Cleveland Guardians will look towards the offseason. The coming offseason will offer many changes for the Guardians, most notably the official name change to the Cleveland Guardians after over a century of being known as the Indians. This offseason will also present a series of questions relating to the roster itself that the front office must figure out before the 2022 season commences. Which minor-league prospects will the team protect from the Rule 5 Draft? And which players currently on the roster will be released or traded to make room for the protection of said prospects? Will the organization make a big free agent signing, or possibly a blockbuster trade, to address urgent needs? Or will they allot their money towards agreeing to a long-term contract with one of their own superstars, such as Jose Ramirez or Shane Bieber? The front office has some crucial decisions to make this winter to ensure the club's success for years to come.
Rule 5 Draft and the 40-Man Roster Crunch
This offseason, the Guardians front office will look to add as many of their eligible prospects as they can to the 40-man roster in order to protect them from the Rule 5 draft, meaning they will have to cut ties with current names already on the big league roster. The Rule 5 Draft, implemented to prevent teams from hoarding minor league talent, demands that after a player's fourth or fifth professional season (depending on how old they were when they were signed), he must either be added to his team's 40-man roster or be eligible to be taken by a team without a full 40-man roster in the Rule 5 Draft. If he goes unprotected by his team and unselected in the Rule 5 Draft, he returns to his former team. 
Due to the lack of a 2020 minor league season, the Guardians, along with every other team, have a lot more Rule-5-eligible prospects than they would in a typical year. The Guardians must assess which of those prospects they see as future contributors to the major league team, along with how they think other teams will view their prospects, in order to keep as many of their players as possible. The Guardians tend to be pretty active in the Rule 5 Draft; last year, they selected pitcher Trevor Stephan from the Yankees. Stephan has contributed in the major leagues as a relief pitcher for much of the second half of this season.
A lot of the Guardians top minor league talent is set to be Rule 5 eligible this offseason. The club's top two prospects, shortstop Tyler Freeman (ranked 60 in MLB's Top 100 Prospect rankings) and outfielder George Valera (ranked 64), both become eligible at the season's end, though both are almost certain to be protected. Other notable names include pitcher Konnor Pilkington (acquired from the White Sox this summer in exchange for Cesar Hernandez), outfielder Will Benson (2016 first-round pick who was promoted to Triple-A Columbus this summer), and infielder Richie Palacios (also promoted to Triple-A this season after excelling in Double-A Akron).
The Guardians are going to want to protect as many of their future players as they can, meaning current fringe players on the current roster may not be in Guardians for much longer. Underperforming outfielders like Oscar Mercado, Harold Ramirez, and Daniel Johnson could possibly be the first to go. Young, unproven pitchers, such as Logan Allen, JC Mejia, and Sam Hentges, are also in danger. The Guardians may choose to release some of these players, or they may opt to package some of them in a trade for an established player who would be ready to contribute next year.
Trades, Free Agents, and Resginings
The Guardians insist that this year's payroll of just over $57 million will increase next year, whether that be through a trade, free agent signing, or an extension for a current player. The Tribe needs to bring in a hitter or two to bolster their offense, along with maybe a reliever or two to add depth to the bullpen.
The Guardians have a lot of players who may be cut due to the impending Rule 5 Draft if they do not get traded. They may consider packaging some of these guys with prospects in exchange for a proven hitter, ideally an outfielder, who can immediately contribute meaningfully to the offense. Pittsburgh Pirates outfielder Bryan Reynolds, who the Guardians asked about at the trade deadline, would be an ideal trade option. Reynolds, a switch hitter, is batting .295 this year with 24 home runs and is under team control through 2025. A player of his caliber, however, would come at a steep cost. Cleveland would likely include players who would otherwise be done away with in a trade for such an impactful player, but such a trade would also demand that Cleveland give up some of its coveted prospects, perhaps even Freeman, for the right price.
This year's free agent class is poised to be loaded with talent, and while it is unlikely that the Guardians will spend big on some of the top talent made available, it might make sense to bring in an outfielder on a cheaper contract, sort of like what they did this past offseason with former Twins outfielder Eddie Rosario (Rosario did not pan out in the way Cleveland hoped and was eventually traded to dump salary, but that is beside the point). Mets outfielder Michael Conforto could make sense, as he will not demand the extravagant salary of some of the best free agents, but should still be able to provide at least a minor upgrade from the makeshift outfield the Indians assembled this season.
The Guardians must also decide if they want to extend one of their current players. Aging relief pitchers Blake Parker and Bryan Shaw, whose contracts expire at the end of this season, will in all likelihood be playing in a different uniform next season. But perennial MVP candidate Jose Ramirez and 2020 Cy Young Award winner Shane Bieber should be priorities, should the Guardians decide to extend someone. Both will undoubtedly demand a salary significantly larger than what they're currently making (Ramirez is making 9 million dollars this year, while Bieber is making just under $700,000). The front office has recently dealt away a lot of their top talent via trade when such players are impending free agents, but Ramirez and Bieber are both young enough (29 and 25 years old respectively) and talented enough where they can help contribute to a World-Series contending team a few years down the line. Bringing back one of these guys will also help Cleveland sell their new Guardians merchandise. Ramirez has two years of team control left after this year, and Bieber has three, so it will be important for the Guardians to lock them up now or trade them while their value is still high.
The Guardians enter a crucial offseason that will determine the level of success the organization enjoys in the near future. Many tough decisions can and will be made, and time will tell if the moves the organization makes will ultimately lead to success.