US Cross Country Growing by Leaps and Bounds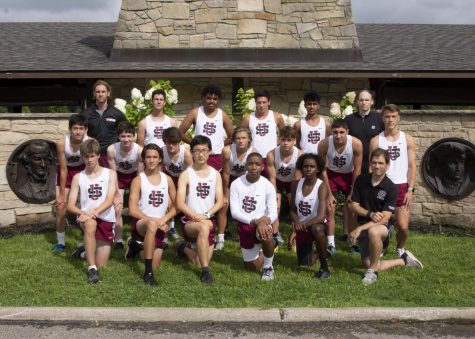 Any time you lose four members of your Varsity team, not to mention your top two performers from the year before, you come to view the impending season through the lens of a fogged camera. You just can't quite get a clear picture of what the top squad will look like. Will it be good? Will it be bad? Who really knows? What's one thing that could frame that picture and clear away some of the haze, though? Optimism. And after the fourth meet of the year, the optimism surrounding an extremely young and inexperienced cross-country team has transformed into much more than just that. The team has shown surprising results, solid proof that the 2021 University School varsity cross-country team is not only improving, but delivering. 
Led by senior captain Nate Miller, who ran a personal best time of 16:26.4 at the Tiffin Cross Country Carnival on September 11, the Varsity team has greatly exceeded expectations, and its aspirations of potentially reaching this year's Regional Meet and beyond may become a reality. The top five runners on Varsity have improved exponentially meet-over-meet, paving a smoother runway to, hopefully, States. Among the varsity returnees from last year are junior Cam Bizjak and sophomore Chase Greppin, both of whom ran in last season's Regional Meet. The two of them, along with Nate, have helped a number of juniors with strong track backgrounds-Evon Gocan, Ryan Streem, and Alex Temnerod-make the adjustment to high school 5k racing for either the first time or after a yearlong hiatus. All three are already producing at the varsity level. In addition, four freshmen have already run in at least one varsity race, with Quinn MacPhail and Alec Congdon each running lettering times of 17:51 and 18:48, respectively. 
Coach Somers, head of the cross-country program, had this to say about the direction of this year's team: "We have a young team, but the results have been promising so far, and we're hoping to make a strong run in the postseason." With just two more meets left to go before Districts, preparation for that postseason run has kicked into full gear, with several new additions to the team (juniors Kaden Jones and James Fu and sophomore Felix Tanner), rounding out what should be a fun group of runners to watch come late October. So come on out, enjoy the last fumes of summer, and cheer on your fellow classmates as they sprint to the finish of the 2021 cross-country season. 
Here is the remaining schedule for this season:
Friday, October 1- Gilmour Paul Primeau Invitational (JV only); 4:30pm race time

Saturday, October 2- Midwest Meet of Champions, Columbus OH (Varsity only); 12:00pm

Saturday, October 9- Legends at Trumbull County (Varsity and JV); 1:00pm race time

Saturday, October 16- George Clements Invitational, University School (JV only); 9:00am