The Show Must Go On: US Music in the COVID-Era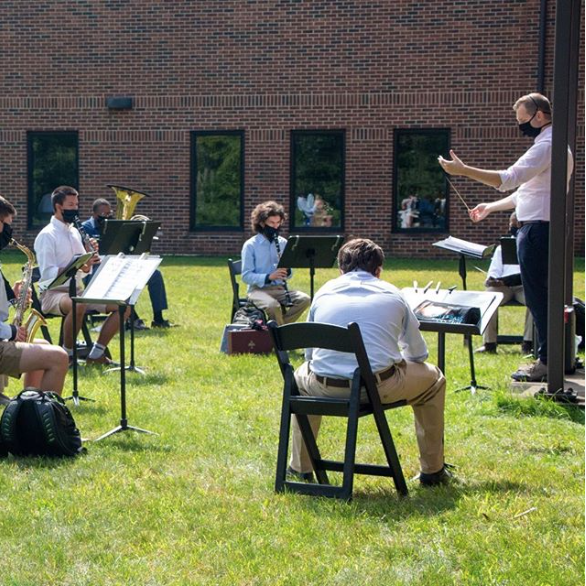 This schoolyear at University School has been marked by unprecedented change, and the high school music program is no exception. The COVID-19 pandemic has caused music programs across the nation to halt indefinitely, and while University School has the privilege of being able to continue to produce music, the restrictions put in place have made the process much more challenging.
Many instruments, as well as singing, dispel aerosols, which can transfer viral particles through the air in things like spit. As a result, school regulation forces any aerosol-involved music to be practiced outdoors while on school grounds. Under these regulations, the orchestra's strings and percussion sections may practice, socially distanced, in the game gym, but all vocalists, woodwinds, and brass instrumentalists must practice outdoors. Theo Moll, a member of the Glee Club, says that while being outdoors is nice, there are still challenges to rehearsing outdoors. He believes the distance between the singers makes it tougher to hear one another, and the unpredictable weather limits when practice can occur. Mr. Singer, the school's director of music and conductor for the orchestra and Glee Club, says that other than preventing the spread of COVID-19, there are no benefits to conducting practices outside that outweigh the advantages to practicing indoors and closer to one another. The inconveniencies, however, are plentiful.
"We're entirely dependent on having a nice day, and that's going to get harder as it gets colder and colder," says Mr. Singer. "And I think the other challenge is the distance, just being far apart from one another. Especially as musicians, we're used to being in close proximity, and I think even the string players [rehearsing] inside are struggling with being at that extra distance because it's not what they're used to."
An issue specific to the orchestra that has arisen is that with such a large group (over thirty students) and different rules applying to different instruments regarding where rehearsals can take place, practice has to occur in two different parts. The woodwinds and brass rehearse outside for the first forty minutes of class, and then the strings rehearse for the last forty minutes. Mr. Singer believes that while this is not a huge issue right now, things will become more complicated as the orchestra advances into more challenging pieces of music.
"As we move further in the year we're going to start to get into repertoire, so instead of being able to pick music that is for the entire orchestra, I have to find or arrange music for just winds and brass, and just strings and percussion. Not being able to bring the whole group together limits us a little bit." Mr. Singer also states that not being able to hear instruments from other sections will hurt the musicians. "It's great, especially when we have new students, for them to be able to hear around the orchestra and to hear other instruments playing their part. For example, we have a new tuba player. He doesn't have a reference point in the basses or the cellos to listen to, so he loses that advantage. We do better when we can hear everybody in both the string and the wind sections."
As fall gradually turns into winter, the opportunities to rehearse outside are going to grow rarer. Eventually it will be too cold to rehearse outside, and woodwinds, brass, and singers may still not be able to rehearse inside by that time. Mr. Singer is hoping for all musicians to be able to rehearse indoors by the time winter rolls around, but if that is not possible, then he plans to have students work on music theory and complete listening assignments during class. They would record themselves playing a piece at home, which they would then submit to him for a grade. Mr. Singer claims this is a less effective option, as he would have no way of ensuring that students were practicing as much as they would be during class.
One of the highlights of the schoolyear for musicians is performing in school concerts, but the method of performance this year will be different. A live performance in the auditorium is unlikely, as there is no way of fitting over thirty students on the stage while complying with the COVID-19 social distance guidelines. However, Mr. Singer has come up with some alternatives for performances this year. He plans to take recordings of musicians playing/singing a small piece, which he will combine into what he calls a video presentation that would be available for people to watch. Theo Moll does not dislike the idea of a video presentation, though he notes that it is disappointing that the pandemic has prevented a normal concert from taking place this winter. In the spring, Mr. Singer hopes to at least record a concert, but there is no way of knowing how things will shape out in the spring.
Mr. Singer is very thankful that the music program is able to continue during the age of COVID-19, even despite the inconveniencies.
"I am, on the highest level, grateful that we get to make music because there are students all over this country that aren't having that opportunity, so I'm glad that the school is supporting us and letting us be outside."
A lot of this gratitude comes from memory of the alternative. During the final interim of the 2019-2020 schoolyear, students in the orchestra did not practice during virtual class periods. Instead, they watched a documentary on famous composer Aaron Copland and engaged in listening exercises. Mr. Singer is appreciative that University School has allowed for ensembles to practice and create music this year.
"They could've just said no, there's no orchestra or chorus this year, but they said let's do it, let's find a way to make it work, so as much as I will continue to gripe about some of the things we have to go through, I'm really grateful that we do get to make music." This year certainly will present challenges for the music program, but it has implemented plans to overcome the hurdles and continue to create music.