Swimming State Champions: US Brings Home Another Trophy for the 2018-2019 Season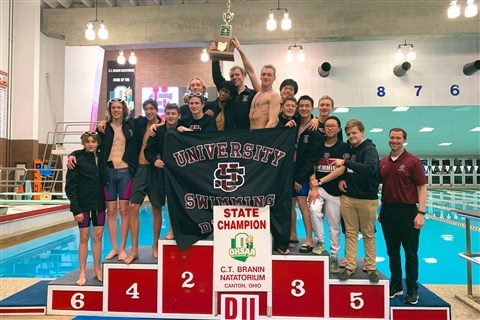 The University School swim team took home their second Division 2 state championship on February 22nd. The most notable headline from the meet, though, was US's triumphant victory, where they dusted the second place team, Hawken, by 113 points. The Preppers qualified the most swimmers in team history for the state meet. Heading into the final day of the competition, US qualified in ten events: the 200 medley relay, the 50, 200, and 500 freestyle, the 200 individual medley, the 200 and 400 freestyle relays, the 100 backstroke, 100 butterfly, and, finally, the 100 breaststroke.
In the 200-medley relay, the team of Cal Ritzmann, Will Zhang, Frank Applebaum, and Nick Tekieli became state champions with a time of 1:33.32. In the 200 freestyle, Ethan Banks came in third place finishing in 1:41.16. The 100 butterfly saw Frank Applebaum finish in fourth place and Owen Hanna in seventh. In the 200 freestyle relay, the team of Owen Hanna, Jeffrey Chi, Will Zhang, and Ethan Banks won the gold medal with a time of 1:26.16. Owen Hanna came in first in the 100 backstroke recording a time of 48.40 seconds, and Nick Tekieli came in fourth just two seconds behind Owen. Owen Hanna's 100 backstroke time was a mere tenth off of the division two record. Owen is also just the second person in University School history to win gold in backstroke. In the 100 breaststroke, Caleb Peters came in sixth, Cal Ritzmann came in seventh, and Will Zhang came in eighth. In the long 500 freestyle, Ethan Banks won third place. And, finally, in the 400 freestyle relay, US came in first with the team of Frank Applebaum, Jeffrey Chi, Owen Hanna, and Ethan Banks. They recorded an impressive time of 3:07.97. Additionally, divers Michael Holtz and Ian Binder came in 10th and 11th place respectively in the state meet.
If you see your fellow peers in the hallways or classrooms, make sure to say congratulations, as their endless hard work has paid off once again. University School takes a lot of pride in its storied swimming program, and it looks like it will stay on top for a while to come.