Mock Trial Team Advances to Regionals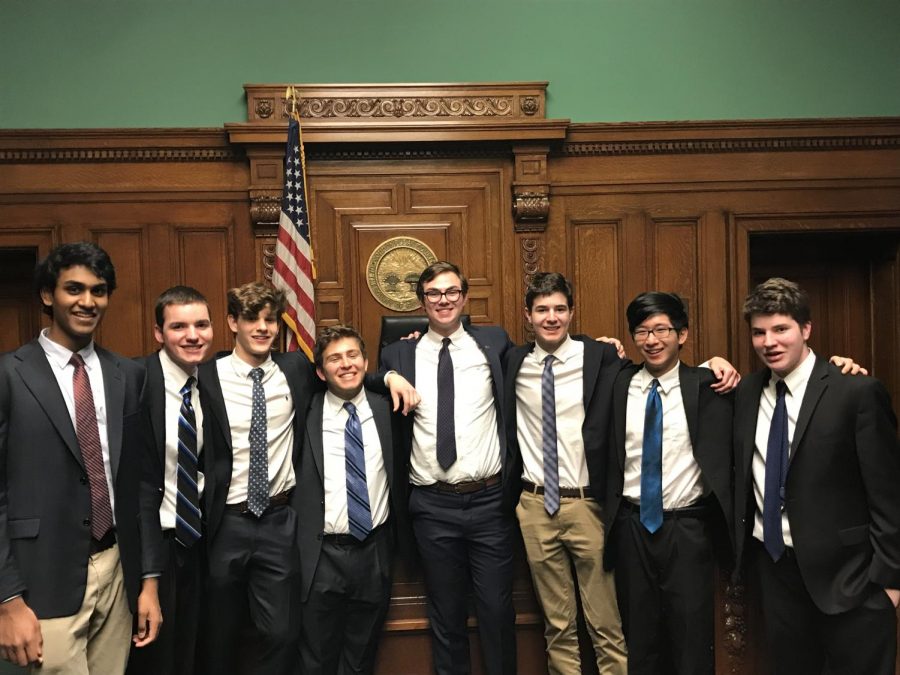 Tyler Fertel '19
March 3, 2019
Of all of the extracurricular opportunities at US, Mock Trial stands out as being the only extracurricular in which the team may only compete once. In Mock Trial, students prepare their materials and practice statements, examinations, and arguments for months to show off their skills in one competition in January. For many Mock Trial participants, this one competition marks the end of their journey until the next year, when they will be able to start all over again with a new case, new team members, and eventually, a new team to compete against in January. At this year's January competition, the Mock Trial team was able to advance one of its three teams to the regional round in February. In order to display how this success was possible, I'll start by describing how Mock Trial works.
Mock Trial rounds have a rigid format. Each round starts with opening statements from both the prosecution and the defense. After these opening statements, there are direct and cross-examinations, in which each team calls two of its own witnesses to support its case. Direct examination serves the purpose of extracting information from the witnesses to support the witness' own team's case, whereas cross-examination is done to make that witness seem less credible. After all of the direct and cross-examinations are finished, there are closing arguments, where each team attempts to leave the judges with some final words in support of its case.
The case this year revolved around the 4th Amendment, and how drone technology may interfere with an individual's privacy. The team from US that will advance to the regional competition in February was team Maroon. The prosecution team consisted of lawyers Nolan Jones and Tyler Fertel and witnesses Jimmy Donohue and Alex Richter. The defense team consisted of attorneys Antony Peng and Nehal Chigurupati and witnesses Jack Sacks and Henry Massey. Team Maroon will compete in February in the hopes of once again advancing to the state competition.
Mock Trial is always looking for more student participants. If this extracurricular sounds interesting to you, talk to Mr. Cate or Dr. Foulds, or look out for the start of Mock Trial next school year.