University School Cross Country
Hang on for a minute...we're trying to find some more stories you might like.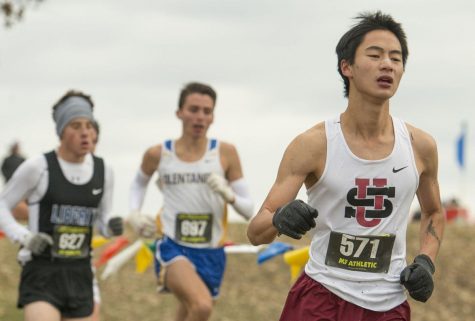 As Halloween drifts by, there is a chance you may have already seen skeletons floating around our campus every day after school, appearing to be wearing short-shorts, no shirts, and a mask of pure agony on their faces. However, there is no need to be scared. University School is not haunted or cursed, rather, it is simply the cross-country team hard at work preparing for the last few meets.
So far, the cross-country team has been off to a great start, already winning two races, an impressive accomplishment considering the talented competition. However, the team's success cannot be credited to just luck. Every day since August 1st, the team has put in countless hours of training in order to be a competitive team. This training regimen has included running, stretching, and strength training. On a typical day, the average cross-country runner will log anywhere between 5-6 miles. These miles usually will come from long runs, interval training, and easy runs. On race day, this tough training is manifested in the evident success of the team, resulting with times as low as 16:01 (Justin Iler).
Although the team is serious when it comes down to competing, many team members share laughs, jokes, and stories together during practice. Senior Arnold von Engelbrechten notes, "the team's welcoming atmosphere has allowed me to become a better runner and truly enjoy the sport." When asked how cross country has impacted his life outside of school, Arnold highlights that "some of [his] best friends have been made through my participation on the cross country team." Sophomore Brady Condon also added that "[he] always looks forward to races where [he] can meet new people, bond with [his] brothers, and spend time enjoying nature." While some value the cross-country team for its fun atmosphere, others have claimed that the sport has acted as a form of escapism for them. These individuals explain that after a hard day of classes, it is nice to exercise and spend a few hours outside with friends.
These claims that praise the cross-country team do not stand alone. In fact, it is widely accepted by the medical community that running has many positive benefits. These benefits include "better sleep, memory, mental health, bone structure, knee strength, immune system, mood, and cardiovascular health." Anyone who has run cross-country before knows that these conclusions are not exaggerated or false. However, there are some negative effects that can occur if you are not carful. These adverse effects can include injury, overtraining, and more severe health problems. For the casual runner though, these harmful effects are hardly ever a concern.
If you have never considered running before and this article has sparked the possibility of starting, there are a few steps you can take that will allow you to enjoy the sport that many love. According to Tara Parker-Pope of the New York Times, a few tips for starting include:
-Training three days a week.
-Running or run/walk 20 to 30 minutes, two days a week.
-Taking a longer run or run/walk (40 minutes to an hour) on the weekend.
-Resting or cross-training on your off days.
-Running at a conversational pace.
-Considering taking regular walk-breaks.
For the remainder of the season, the cross country team will toe the line two more times in regular meets, and two more times in the postseason. Competitive races are expected for these last few meets and the cross country team has done everything they can to prepare for the final push. To stay up to date on the team's progress, look out for announcements at assembly and online.