US Basketball Rundown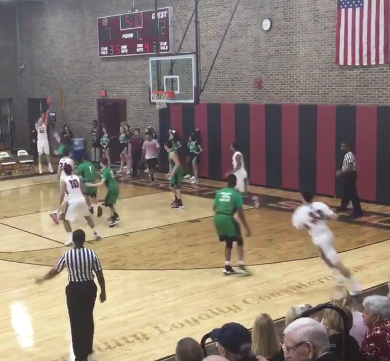 Hang on for a minute...we're trying to find some more stories you might like.
The US Varsity basketball team's record currently sits at 7-13. However, this record should not distract from the continuous hard work and effort the team put in day in and day out. Senior leaders, Seven Richmond, Cam Hubbard and Matt Kalady have been giving it their all down the stretch as their high school basketball careers wind down.
In addition to the three seniors, the Varsity team is equipped with a plethora of juniors and two underclassmen who, in their first year on Varsity, saw significant playing time. Sophomore O'mahn Dobbins and Freshman Ricky Radtke were able to contribute in big ways. Dobbins exploded for 20 points and 5 assists vs. Mayfield while maintaining a 10.7 point per game average, which ranks second on the team. Over the course of the season, Radtke developed and improved. Recently, he put up 7 points and 8 rebounds in an exciting decisive team win on the road vs. Orange. When asked how his first season on Varsity was and about the future of the program, Radtke replied, "The season started off rough, after the loss of some key players, but we've bounced back and are ready to make a run in the playoffs." Radtke also added that the program was trending in an upward direction in the future, stating, "The junior leaders have been pivotal and will each be big pieces next year. The other young players, specifically the freshmen class, have a lot of potential and I look forward to playing with them in the future."
Juniors Grant Pawlikowsky, TJ Kelly, Jack Voudouris, John Nestor and Jake Nordell have all been vital to the team's wins and mindset going forward. This team was also able to surprise most when they were leading powerhouse St. Ignatius at the end of the first quarter and only trailed by a mere 3 points at halftime. Even though they lost this game, the team's has a lot of heart and consistently fights despite their sub-500 record.
Even though multiple players suffered many key injuries, the JV basketball team had a constructive season. Its current record is 8-11, with two games left in the season. Also plagued by the injury bug, the freshmen team's record currently stands at 7-9.
The Varsity team is slated in a postseason showdown vs. Kenston whom they lost to earlier in the season 66-48. They would appreciate your support!