Varsity Outdoor Projects: the Three Season Sport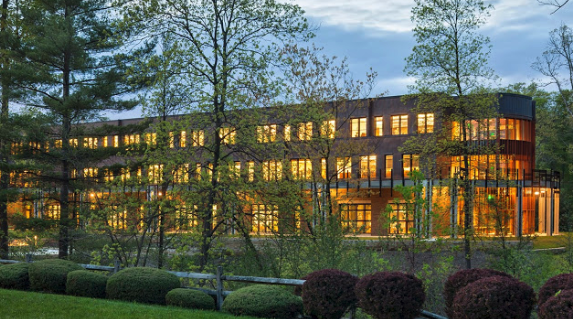 Hang on for a minute...we're trying to find some more stories you might like.
        We all know Mr. Terry Harmon, whether through freshman biology classes or the Outdoor Projects that he runs after school. For those not familiar with Outdoor Projects, it is an extracurricular that Mr. Harmon leads consisting seasonal activities such as raising brook trout in the hatchery during the winter to tapping maple trees for syrup during the spring. Outdoor Projects connects students with nature, allowing them to learn about the wonderful natural setting on our own campus.
        Outdoor Projects is a hidden gem that is unique to University School. It is currently one of the lightest attended and oldest programs at US. The program first started in the early 1970's, when the hatchery on the other side of the dam was built by students from 1971-72. Back then, teachers also had a requirement to participate in athletics, so Mr. Harmon initiated a ropes course, maple tree tapping, and hatchery work as a result—Yes, Outdoor Projects can count as PE credit. While the ropes course is no longer offered, the hatchery and maple sugar tapping have lasted for over 45 years.
        From my brief experiences with working in the Hatchery during this program, each day brings different challenges and tasks to be accomplished. Anything from moving lumber and fixing the hatchery to feeding the fish and nurturing their eggs, there is a remarkable amount of work involved. Yet at the same time, it is very satisfying to marvel at the growth and development of fish stock. A great benefit from participating in Outdoor Projects are the development of problem solving skills, increased self-discipline, and an outlet for creativity to support of our ecosystem. There are always tasks to do, and Mr. Harmon helps us figure out ingenious ways to accomplish them. For example, in order to clean the troughs of the muddy water, Mr. Harmon devises a siphon with a mere plastic tube, and we are able to siphon the muddy water out.
Another great aspect of Outdoor Projects is to see science in action. You will revisit biology in studying the life cycle of fish and the ecosystem of the streams.  Chemistry is seen from the analysis of oxygen levels and tannins from leaves in the waters. There is also physics in the study of water flow and siphons and how they support the fishery. Additionally, the low-tech features of the 45 year-old building really force you to be practical and keep trying out ideas—a real world application of the scientific method. Through all these experiences, the world of science is revealed.
        Most importantly, Outdoor Projects addresses the sustainability of fish.  According to the World Health Organization, over the last 30 years, as global populations approach 7.6 billion, global demand of fish has surpassed 146 million tons.  Without fisheries, our natural supply of fish would reach extinction. That is why it is critical to learn about and support the maintenance of aquaculture. "My main concern is conservation. If you want to sustain an activity you have to take care of the stock," said Mr. Harmon.
        So why don't more students take advantage of such a unique opportunity? It is understandable that the experience of the freshman biology class may prove too much for some kids to stomach, but that is only a small part of the full experience. Many students cite their busy schedules as the problem; with all our of our other, more conventional activities— debate, sport practice, or any number of the clubs—we don't have the time to go outside. According to Mr. Harmon, this is very unfortunate. "There are so many activities, and students don't come here for the outdoors," says Mr. Harmon, "they want the excellence of our curriculum … and organized sports which have expanded." Lastly, the type of work involved in these projects can sometimes be unpredictable and menial. Moving tons of wood for an hour is a physical and exhaustive task, and waiting for the fish eggs can take unknown lengths of time. They might not be activities we enjoy doing or have the patience for.
Being one of four students currently tending the fishery, I feel a great sense of responsibility: a responsibility to keep the fish alive; a responsibility to prepare for the spring; a responsibility to make sure the program can keep going. At this point, it even seems to be my duty. I too enjoy sports and other extracurriculars, but Outdoor Projects is one that strongly speaks to me. It may be because of this feeling of responsibility. It may be how it is unique to US. It may be the sheer amount of information learned from Mr. Harmon's expertise. Whatever it is, it will keep me dedicated to this program, and trying to find as much time as possible to be part of it.
        So, if anyone ever has any free time during this coming winter or spring, or you want a way to get out of a sport that you may have been forced to take, then Outdoor Projects is always looking for more help.