2017-2018 Squash Season Preview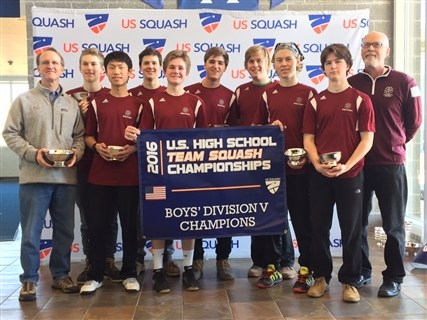 Hang on for a minute...we're trying to find some more stories you might like.
University School offers five sports during the winter season: basketball, swimming, wrestling, hockey, and squash. Yes, you heard that right, squash.  Many are surprised that we have a squash team at US, and it continues to go unnoticed despite being one of the better performing teams at the school.  The squash team has improved greatly over the past couple of years, creating a serious mentality starting with the developmental team all the way up to the varsity squad. University School is one of a few schools that have a squash team and because of it, they have to travel to Buffalo to face their nearest opponent.
The University School squash team is looking to continue their success that they have had in years past.  Led by senior captains Philip Richter and Tony Zhang, the team looks to make a run at the national championship. When asked about the goals for the season Richter said, "For this season, we hope to catch some wins against some of the higher division teams and position ourselves for a big win in the national championships." With some returning players, the team presents some depth, which better suits them for the long winter season. "I feel we have a strong team going into this year. I am confident we will do as well, if not better than last year," says Richter, "If we work hard in practice, and have confidence in our abilities, I know everything will fall into place."
Because the squash team travels almost every time they compete, they spend a lot of time together which only helps the team develop: "I think our biggest advantage this year is the team's camaraderie. On top of being a group of great Squash players, we are great friends and teammates, improving our performance in practice and in matches." Despite squash being an individual sport, Richter said, "every player on the team is a key player. We all have important roles to play and since every individual match counts equally, so it would be nigh impossible to identify individual players above the rest." Each player must pull their weight for the team to succeed and this can be accomplished through the practice mentality that the captains have enforced on this year's team.
The squash team begins the season against Denison at home on December 2nd.