Kneeling: Where Do We Draw the Line?
Hang on for a minute...we're trying to find some more stories you might like.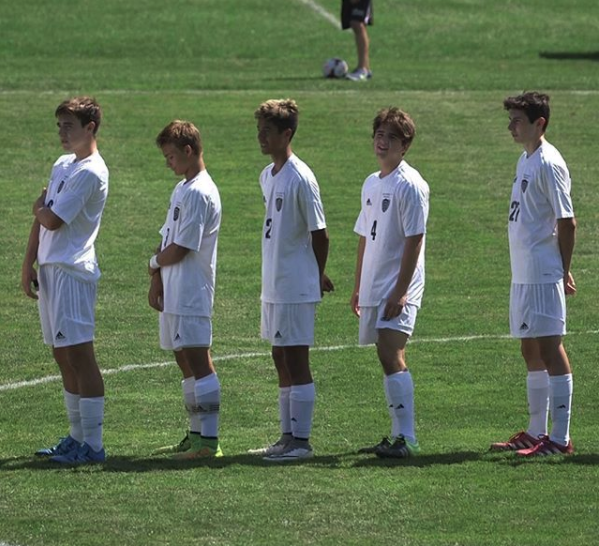 In the eyes of many Americans, kneeling during the national anthem is an act of defiance against the U.S.A. This so-called "trend" started gaining attention in 2016, when an NFL quarterback knelt during the national anthem, sparking outrage. Recently, however, this has taken another form at a U.S. soccer game. During the national anthem, the soccer team had received complaints about not being still enough, and in a way it really does reflect the patriotic views of Americans.
The recent criticism of the University School soccer team has been a bit outrageous, as they are absolutely not crossing  any boundaries like NFL players, who are kneeling or sitting during the national anthem. When more and more NFL players started kneeling during the national anthem, a national debate began leading to harsh comments from renowned athletes, and even President Donald Trump. The NFL, in its current season, has spiraled far out of control. In the first two weeks of the season, the staff and the players alike have put on several displays of the so-called "rebellion", with the interlocking of arms and combined kneeling of entire teams. Two cases of kneeling have really stood out in the NFL this season. One case was during a Pittsburg Steelers game against the Chicago Bears, where the whole Steelers team didn't even show up on the field for the national anthem, because they decided as a team, to stay in the locker room until the game started. Another case was during a Dallas Cowboys game against the Arizona Cardinals, where the entire Cowboys team, including their owner, Jerry Jones, and US alumnus, head coach Jason Garrett, knelt on the field and interlocked arms. What's special about this scenario is that the owner of the Dallas Cowboys, Jerry Jones, is a very active and enthusiastic Trump supporter, who went against Trump in this situation.
The complaints against the U.S. soccer team, however, are  invalid. The soccer team relates to the athletes kneeling because Americans, as a people, view both as a form of rebellion or defiance, when both are using their first amendment right. Whether it be kneeling or sitting or doing something out of procedure, Americans have the right to exercise their first amendment right and do as they wish.