Week 6 Fantasy Football Start/Sit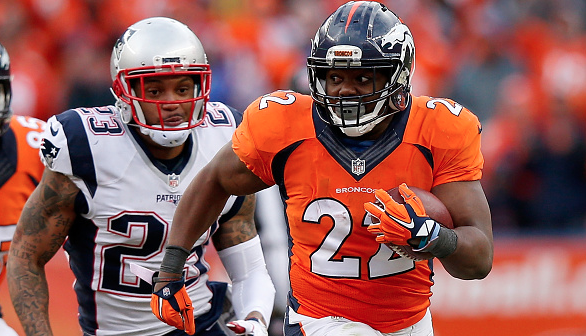 With Week 5 of the NFL season coming to a close tonight, so are this week's fantasy football matchups. Following the end of one week comes another right around the corner, kicking off this Thursday with the Denver Broncos against the San Diego Chargers. This article, detailing advice for week 6 matchups, is based on standard scoring from ESPN's website, and is NOT based of off PPR league scoring.
Quarterbacks:
Start of the Week: Ben Roethlisberger vs. Miami Dolphins
"Big Ben" has had a monster start to the season. Roethlisberger also has a favorable matchup against the same defense that has totaled only one interception over the entirety of the season.
Joe Flacco vs. New York Giants

Flacco has his work cut out for him against the Giants, who entered Sunday's game against the Packers without a single interception. Look for Flacco to make passes down the field and shred the New York defense.

Alex Smith vs. Oakland Raiders

The Raiders have allowed more than 100 points to opposing quarterbacks over the past 5 games. Smith will likely be able to throw the ball downfield to targets Travis Kelce and Jeremy Maclin to take advantage of this vulnerable defense.
Sit:
Kirk Cousins vs. Philadelphia Eagles

The Eagles have allowed an average of only 9 points over the course of the season until Marcus Mariota's breakout performance Sunday. Although Cousins has performed well over the 4 games, this game will likely be different.

Eli Manning vs. Baltimore Ravens

Manning has had a rough start to the season, with his highest performance unable to eclipse 20 fantasy points. In addition, he is going up against a top ten defense that has made their presence in the league known to all teams. Don't expect big numbers out of Manning this week.
Running Backs
Start:
Start of the Week: C.J. Anderson vs. San Diego Chargers

J. Anderson has surprised everybody, with his high and unexpected average fantasy point total of 13 points per game. Going up against a poor rush defense, Anderson should see a lot of carries this week and continue to produce.

Isaiah Crowell vs. Tennessee Titans

The Titans have allowed over 4 yards per carry to opposing running backs through the first 5 games. Expect this game to be no different, especially with an offensive weapon crucial to the Browns' "success."
Sit:
Carlos Hyde vs. Buffalo Bills

Hyde is one of the only bright spots on the 49ers, but the Bills defense has shut down running backs so far this season, with no rush going for more than 22 yards. Hyde's workload will likely be diminished by the success of San Francisco's receiving corps and the relative weakness of Buffalo's secondary.

Ezekiel Elliot vs. Green Bay Packers

"Zeke" has a situation very similar to Carlos Hyde. Elliot is the top player on the Cowboys, but he is going up against a defense that has allowed an average of less than 2 yards per carry. Elliot's carries may be lowered due to Green Bay's astounding rush defense, making his prospects for this week uncharacteristically discouraging.
Wide Receivers
Start:
Start of the Week: Larry Fitzgerald vs. New York Jets

Fitzgerald has had a good start to the season. This could well be Fitzgerald's biggest game yet, seeing that the Jets have allowed 2 receiving touchdowns per game on average.

Doug Baldwin vs. Atlanta Falcons

Baldwin has been pretty inconsistent so far this season. While he has had two games with more than 15 fantasy points, he has also had two games with less than 6 fantasy points. Baldwin is likely to have another high point total this week. The Falcons have allowed 13 touchdowns already, and Baldwin will only add to this gigantic number.
Sit:
Julian Edelman vs. Cincinnati Bengals

With Tom Brady and Rob Gronkowski back in full swing with the New England Patriots, Edelman is back to his role as New England's number two offensive weapon in the passing game. Also, the Bengals are a top tier defense, further limiting Edelman's effectiveness.

Travis Benjamin vs. Denver Broncos

Benjamin has seen a recent surge in productivity, but in week 6 he is going up against the same defense that won Super Bowl 50 and shut down the then undefeated Panthers. Don't expect Benjamin to do as well as he did in Week 2, when he scored 23 fantasy points.
Tight Ends:
Start of the Week: Delanie Walker vs. Cleveland Browns

Walker is the Titans' number one target going down field. He is going up against the Browns this week. Need I say more?

Sit: Jordan Reed vs. Philadelphia Eagles

Although Jordan Reed is one of the top tight ends in the league right now, he is going up against one of the top defenses in the league. Don't expect Reed to put up huge numbers.

Defenses:
Start of the Week: Denver Broncos vs. San Diego Chargers

The Broncos are one of the best defenses in the league, and although Melvin Gordon and Travis Benjamin have had outstanding performances recently, they are no match for the Broncos defense.

Sit: Cincinnati Bengals vs. New England Patriots

The Patriots now have their most dangerous weapons back in action: Tom Brady and Rob Gronkowski. As I said before, the chemistry between this dynamic duo will walk over the Bengals without hesitation. After taking vengeance on the Browns last week, expect the Patriots' offense to keep steamrolling their opposition.