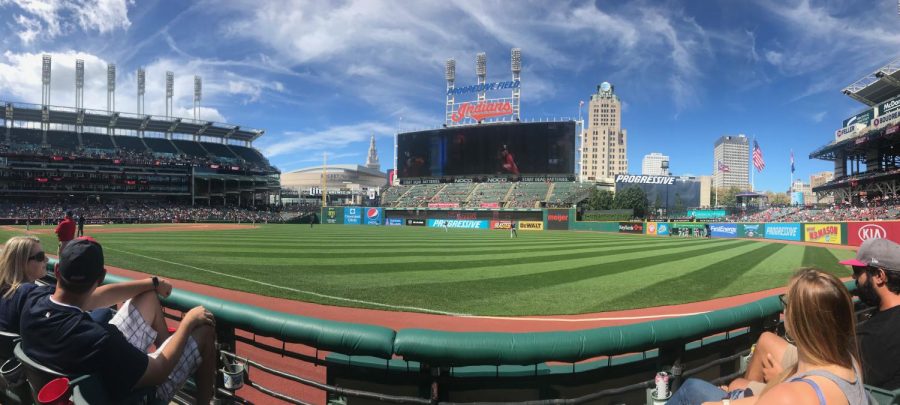 The future is uncertain for the Cleveland Indians. This season was short, and many questions regarding the future loom over fans and the team alike: Can we retain the team's foundation? Does the front office even want to? And, how will they rebuild after 4 years of slow decay?
The culmination of poor decisions by the team brass has ended up in a repeat occurrence: exiting the playoffs early. Disappointing results, however, don't seem to be a result of a lack in talent. Fransisco Lindor, Carlos Santana, and Jose Ramirez have been consistent assets all around. Jose Ramirez is an MVP finalist with 17 dingers and the highest WAR, (approximately how many wins he is responsible for compared to the league average) in MLB by a mile. Additionally, the pitching core was one to reckon with, led by young talents Shane Bieber and Zack Plesac. The ace on the mound, Shane Bieber, had a year for the ages, going 8-1, with a 1.63 ERA (earned run average) and a Triple Crown (led the league in strikeouts, wins, and era) to top it all off.
Owner Paul Dolan's cheapness is what has plagued this team for years. Likely to be the 2020 NL Cy Young Award winner, Trevor Bauer was traded last season for scraps and a washed Yasiel Puig. Two-time Cy Young Award winner Corey Kluber was traded for a couple of no names who proved useless to the Indian's success. Mike Clevinger, who has led the majors in ERA for the last two years, was traded to the Padres for 6 players that most definitely do not equate in worth to our valued starting pitcher. The mind-bogglingly low returns from all of these star have not made an impact in the regular season, nor the playoffs. If we had Bauer and Clevinger, along with sure Cy Young winner Bieber and Pleasac in the mix for the playoffs, it would be the most feared rotation in years. Even if we had traded Clevinger, Kluber, and Bauer for actual talent on the trade block such as Will Meyers or Mike Yastremski, (from the Padres and Giants respectively) the yields for the team would have been much greater than what we were left with. Those batters alongside MVP hopeful Jose Ramirez would have been dangerous and entertaining. Unfortunately, the ideal has not been the reality; It seems as if management's only goal right now is to cut payroll.
In my opinion, this season was the last chance for the Indians. Hopes were high for the series against the Yankees after a somewhat successful 60 game sprint to the playoffs. Unfortunately, these hopes were squandered immediately by Aaron Judge, Giancarlo Stanton and Gerritt Cole. Bieber collapsed dramatically and our batters surely did not pick up the slack. We fought hard in game two with 9 runs, but once again lost with a blown save by normally consistent closer Brad Hand. Just like that the playoff run was over in 48 hours, typical of Cleveland sports.
This offseason, aforementioned Brad Hand, leadoff 2ndbaseman Cesar Hernandez, and tribe legend Carlos Santana will become free agents, not expected to return. Lindor will most likely be traded before his contract year next offseason, especially after his poor playoff performance. The magic of the 2016 team is slowly fading, and another rebuild will be pivotal in getting it back.