Coach Alvarez and the Weight Room
Jake Kapp, Staff Writer
November 5, 2018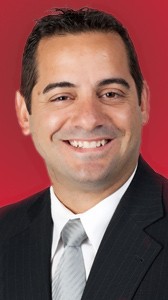 No one realized how badly University School needed a full-time strength and conditioning coach until Coach Alvarez arrived. His presence has made an immediate impact, and he is only getting started.
Finding Coach Alvarez was a huge win for US. Athletically, he has experience at every level, spending time at St. Xavier High School, the University of Cincinnati, the University of Notre Dame, and most notably, as the head of strength and conditioning for both the Pittsburgh Pirates and Cincinnati Reds. His 20 plus years of experience enhancing athlete's strength and overall performance is exactly what the University School athletic program needs.
Starting in the spring of 2018, Coach Alvarez has already made an enormous impact on the athletic program. Perhaps the most noteworthy change since his arrival is the new level of organization in the weight room. All of the rarely-used machines have been discarded, and the platforms and racks are now all lined up on one side of the room. Aside from the new structure of the weight room, there have also been a few key additions: a cooler filled with chocolate milk, iPads that athletes use for wellness surveys, and NormaTec recovery equipment, which allows for a speedy recovery. More importantly, however, the workouts themselves are much more organized than in years past. Coach Alvarez designed cards for the athletes to fill out while they exercise. The notecard includes the exercise, the necessary percentage of weight, and space for the athlete to fill in the specific weight he used. Not only does this system help keep athletes focused and efficient during a training session, but it also makes it easy to track one's progress.
Coach Alvarez has played a pivotal role in the football team's development. He arrived just in time for the start of summer workouts and hasn't looked back since. His primary task is to get the players to perform at their peak, but he has brought much more to the team and than that. Not only has his high energy and determined attitude rubbed off on the players, but his mantra, "Thick, Quick, and Nasty" was quickly absorbed by all the guys.
There has always been a great deal of athletic potential at US, but now, with the addition of Coach Alvarez, the University School athletic program will is bound for even greater success in every sport. Don't be surprised when the school starts running out of room on the gymnasium walls to showcase their state championship banners.